How can volunteering shape organizations & wellbeing
Years ago, I joined the people development team at Telefonica. I've learned to help leaders develop their teams and grow by themselves. Little did I know that professional #workforceenablement is a very small ratio for all those of us, who want to shape the future.
By 2020, millennials will form 50 % of the global workforce (according to PWC's survey). Everyone born between 1980 – 2000 will shape the world of work. Deloitte's Global Millennial Servey 2019 shows that 46 % are eager to make a positive impact on society on large at some point. 
I'm one of the #millennials and #digitalnatives.
After working countless hours and creating impact within organizations, I took the biggest leap in my life. Leaving my previous life behind is an understatement of the last 2.5 years.
"Are you giving up your career you're working so hard for?"
"This will ruin your career."
And many other things were coming my way.
It wasn't easy to leave my highly paid, highly successful and highly prestigious corporate & StartUp consulting career. But the "signs" around me were stronger than my sense of security.
"And at the end of the day your feet should be dirty, your hair messy and your eyes sparkling."
However, the time was right and one of the experiences I'm beyond grateful for was to volunteer in one of the poorest areas in Sri Lanka.
The place provides #digitalskills to kids in the jungle and enables them to be able to be part of #futurework and create lives and careers they want.
Volunteers from around the world coming together to teach kids up from the 1st grade to high school.
They're absolutely eager to learn. Curious about you and what you've to share. But most importantly, generous, kind and driven.  Some of the kids were living too far away. In order to ensure education for everyone, we went to their homes and taught them there.
The feeling of gratitude, appreciation, and fulfillment arises while typing those words. The young girls took me with them after school to show me their beautiful areas and secret places. Trust and openness to share everything created bonding and connectedness.
Why am I sharing this with you today?
Let's talk #nxtlvl leadership based on #neuroscience
After growing up as a half-orphan, being beaten up by a tall guy at the 1st grade, my sense of fairness and empathy has been an intrinsic motivation to help others. At high school, while volunteering at the university or at work. Even last week, we provided a space for a youngster who couldn't afford our retreat on a sailing boat.
What does volunteering enhance in the brain and body?
Boosts endorphins in the brain
Activates positive-emotion circuits
Increases cognitive resources
Shapes brain and being to operate on a higher level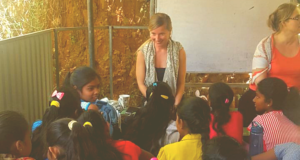 Our feedback loops between body-brain & brain-body get influenced and can provide a constant state of appreciation, empathy, generosity, and compassion.
In the time of fast-paced economy, vuca environment (more about that soon!) and epidemic development of mental health management needs, volunteering can literally unconsciously give people permission to show up compassionate.
It activates the parts in our brain which are linked to pleasure and satisfaction, and: 
Counteract the effect of stress, anger or anxiety
Positive impact on our mental and physical health
Profound effect on our overall wellbeing
Volunteering, charity or any kind of altruism activates is the #nxtlvlls (next level leadership) which can support everyone to work and live from a place of fulfillment, pleasure, and satisfaction. This can increase #productivity, #efficiency, and #positivity overall.
Why does it matter in business?
According to Gallups survey, the annual costs for lost productivity are $84 billion. Everyone can literally train their body and brain. Volunteering/charity or other ways of helping others are one of the most powerful ways to shape the brain and increase productivity as well as wellbeing – and so much more!
Competencies like self-awareness, social awareness and self-management will come along with relationship skills and responsibility for decision making.
That's why we need to spread and share it more in business, don't we? My childhood created the need to help other kids and youngsters. Everyone has different experiences and motivations. Whatever it is for you or your company, find it out and go for it!
If you need any support to implement it into your company culture, I'm happy to assist.
Let's be the change in the world we want to see.
Never forget to #trusttheprocess